The exhibition in Villa Stiassni will commemorate 125 years of Bohuslav Fuchs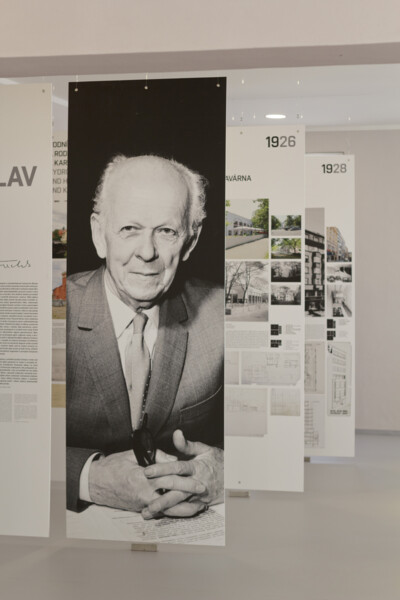 From Friday, February 28, visitors of the Villa Stiassni will have the opportunity to wander through the famous buildings of Bohuslav Fuchs through an exhibition from the production of the Kotera Centre of Architecture o.p.s. and publishing house FOIBOS BOOKS. This marks the 125th anniversary of the birth of this famous architect. The exhibition will stay in the villa until 6 April.
Bohuslav Fuchs was born on March 24, 1895 in Všechovice. He was a student and collaborator of Jan Kotěra and gradually became one of the most important creators of modern Czech architecture. About 150 of his works can be found not only in Brno, where the famous architect lived, but also throughout Moravia. A number of competition designs were also dedicated to Prague.
Fuchs was also a member of the Group of Fine Artists in Brno and the Block of Fine Artists of the Moravia-Silesia. In 1932 he founded the family company AKA, a company for the production of home accessories and art objects. He also worked as a professor.

The exhibition, prepared by FOIBOS BOOKS and Kotěra Architecture Centre, will guide us almost thirty buildings from Fuchs' own villa in Brno, through the famous Avion Hotel, Zeman Café, Třeština Power Plant, Jakub Deml House in Tasov, Villa in Luhačovice to the thermal swimming pool Zelená žába in Trenčianske Teplice. In addition to the most famous buildings, the exhibition will commemorate some of the less-known works, such as Fuchs's work in his hometown Všechovice.

The exhibition will be open at Villa Stiassni until 6 April. Visitors can see it on Mondays, Fridays and weekends from 10 am to 4 pm. Admission is 30 CZK and includes entrance to one of the largest villa gardens established in the interwar Czechoslovakia.

The partner of the exhibition is the village Všechovice, project is financially supported by the South Moravian Region, the Statutory City of Brno and the State Culture Fund of the Czech Republic.

OPENING: February 27, 2020 at 5 pm

LECTURE by prof. Vladimír ŠLAPETA: March 10, 2020 at 5 pm, free entry