Villa Stiassni invites you to an exhibition of building models by Adolf Loos. They originated in Japan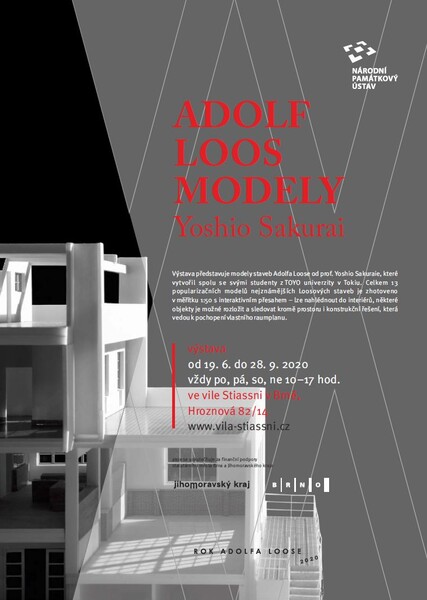 Exhibition of building models designed by Adolf Loose and made by prof. Yoshio Sakurai together with his students from TOYO University, Tokyo. It includes 13 completed and unrealized buildings in a scale of 1:50. Some of the models are interactive - they can be decomposed and visitors can get directly acquainted with the principles and specific application of the raumplan. The exhibition can be seen from 19 June to 28 September.
On December 10, 1870, the architect was born in Brno, who probably does not need to be introduced more widely. A promoter of modern architectural thinking, a sworn opponent of Art Nouveau ornamentalism and a distinctive personality who has indelibly entered the history of architecture, who would celebrate his 150th birthday in 2020. The National Heritage Institute has prepared a number of events for this anniversary, the first of which is the exhibition.
The Institute of Human Environment Design at the University of Tokyo has been documenting Adolf Loos's buildings since 2000. With the help of students, a number of paper models, models using 3D printing, plan documentation and digitized models have been created. Until today, one of the largest collections of models of Loos's buildings in the world has been created there.
The models were borrowed free of charge from the University of Tokyo; in the Czech Republic, they were already exhibited in 2019 in the Villa Wintrnitz, where their European premiere took place. After the repetition in Villa Stiassni, models will be transferred to the Czech Center in Vienna. From the buildings intended for the territory of today's Czech Republic, visitors will be able to see the villa of the director of the sugar rafinery in Hrušovany, Villa Müller or Villa Winternitz in Prague or the so-called Last House, an unrealized project of a house with a wooden structure from 1932-1933 for the Prague company Kapsa & Müller prepared for serial construction. The models will be accompanied by texts about individual buildings and a bust by of the world architect by the Brno sculptor Zdeněk Makovský.