Villa Stiassni invites you to an exhibition about the followers of Adolf Loos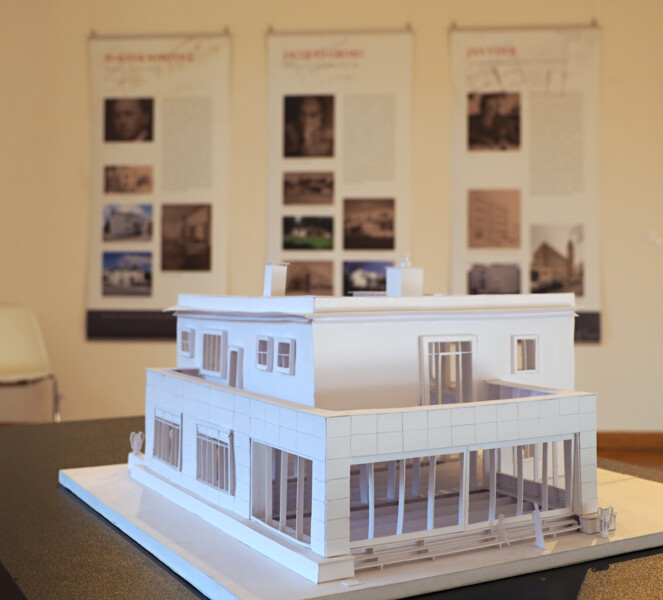 Today, another of the 150th anniversary exhibitions of Adolf Loos opens at Villa Stiassni. This time it is dedicated to Loos' students and followers and their work in the territory of today's Czech Republic. Although they were top architects, due to the fact that they were either of Jewish origin or Czech Germans or Austrians, their work was not always given much attention in the past.
On December 10, 1870, an architect was born in Brno, a promoter of modern architectural thinking, a sworn opponent of Art Nouveau ornamentalism and a distinctive personality who indelibly entered the history of architecture. A lesser known fact is that this architect founded his own construction school in 1911, which was attended by about a hundred of students. Most of them also worked directly in Loos's studio. After the Second World War, these students spread all over the world, so their work can be found in Europe, the USA, Israel or New Zealand. The most active in the Czech Republic were Felix Augenfeld, Jacques Groag, Alfons Hetmanek, Heinrich Kulka, Karel Lhota and Rudolf Wels. Among other collaborators of Adolf Loos, the exhibition describes, for example, the work of Ernst Wiesner or Jan Víšek.
The exhibition in Brno will be followed on November 26 by an international symposium with the participation of the world's most important researchers dealing with the work of Adolf Loos and other architects of his time. The National Heritage Institute is also preparing a publication on Loos' followers.
Due to the current measures against COVID 19, the exhibition will be open only until Sunday, October 11, 2020, its further opening depends on the further development of the epidemic. From Monday, October 12, however, the exhibition will be available in virtual form on the event's website.
The exhibition is held with the financial support of the statutory city of Brno.